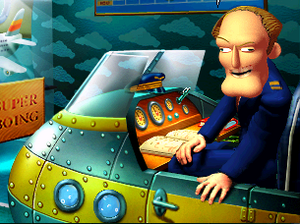 The plane dealer/broker sells new planes that are in top-notch condition to airlines. It is located on the upper or employee-only level of the airport.
Airline Tycoon
Edit
The Makel & Sons Plane Dealer (also known as the Plane Broker) is run by Mr. Makel who sells new planes. The Plane Dealer is located just to the right of Honey Airlines's Personnel Office, and above Rick's Cafe. Its shortcut key is: E.
The cost of the planes sold by the Plane Dealer are generally higher than those sold by the museum since the planes sold by the Plane Dealer are brand new and are delivered immediately. These planes cannot be customized; new, customizable planes are only available at the HiTech Aircraft Design Shop (only present in Airline Tycoon Evolution and Airline Tycoon Deluxe).
Not all models of aircraft are initially available. As days go by, Mr. Makel will sporadically introduce a new airplane model available for sale. You can speak to Rick (the owner of Rick's Cafe) every day if you would like to be updated about new airplanes available at the Plane Dealer or just occasionally visit the Plane Dealer. To see Mr. Makel's list of planes, tell Mr. Makel that you'd like to buy a new plane and he'll present you with a spiral-bound notebook. Hover your cursor over an aircraft model/type for more information, in particular:
Aircraft manufacturer
Aircraft type
Maximum number of passengers it can seat per flight
Maximum amount of freight it can hold per flight (in tons)
Range - the maximum distance it can fly with maximum fuel (in kilometers)
Speed of the aircraft in kilometers per hour
Thrust of the aircraft's engines in kilo-Newtons
Consumption - the fuel consumption of the aircraft in liters per hour
Crew - the minimum number of pilots required for the aircraft to fly
Attendants - the minimum number of flight attendants required for the aircraft to fly
Price of the aircraft
Airline Tycoon 2
Edit
In Airline Tycoon 2, new planes can be purchased in Hangar 51.
Community content is available under
CC-BY-SA
unless otherwise noted.