Featured article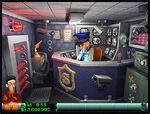 Evolution is the second stand-alone expansion pack to be released for the game...
Help Needed!
Cleaning up and improving articles.
Uploading more pictures and other media.
Writing lots more articles.
Welcome to Airline Tycoon Wiki
This Wiki is dedicated to the much overlooked but much enjoyed game
Airline Tycoon
, it's expansion packs and the newest addition to the series:
Airline Tycoon 2
!
Feel free to jump in and edit or create articles about all aspects of the game. Or if you're just here for information, take a look around and if you don't find what you need, let us know and we'll add it!
68 articles since 23rd June 2008.
Games and Expansion Packs

Useful Links

Other Useful Pages
What's new on Airline Tycoon Wiki
3rd December 2011

Several new pages added along with new content about Airline Tycoon 2.
6th August 2008

Wiki Logo and Favicon changed.
24th June 2008

First articles added.
23rd June 2008

Airline Tycoon Wiki set up by CountVlad.
Helping out
This is quite a small Wiki at the moment. I would really appreciate it if other people could write some articles as well. You can do this either by following red links in existing articles or by entering the title of a new article in the box below and clicking on the "Write new article button".
Thanks. :)
CountVlad.
Not sure where to start?
Adding content
Talk and more...
Check out the community portal to see what the community is working on, to give feedback or just to say hi.