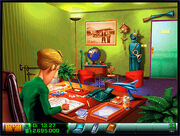 Airline Tycoon is the original version of the game developed by Spellbound and published by Infogrames. This version of the game was published in 1998 for Windows and was only sold in Germany, although an English Demo was produced.
Overview
Edit
In the game, the player is a Tycoon who has just received state funding to start up his or her own airline. S/he then competes against three other Tycoons in a similar situation to become the most successful Airline manager. The player must keep their passengers happy, keep the planes running safely and above all, make a profit! This can be achieved in a myriad of different ways including upgrading aircraft to be more comfortable, employing more competent employees and even dirty tricks!
Community content is available under
CC-BY-SA
unless otherwise noted.