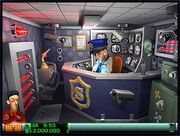 Evolution is the second stand-alone expansion pack to be released for the game.
Overview
Edit
Published in 2002 by Monte Cristo, Evolution brings many new features to the game along with the features already introduced in First Class.
Some of the features include new Security options, an in-game Aircraft Designer, several new Sabotage options and the ability to set how many seat you want to be Second or First Class.
System Requirements
Edit
The following System Requirements can be found on the back of the Airline Tycoon Evolution box:
Microsoft Windows
Edit
Pentium Processor or equivalent at 133 MHz
Windows 98/ME/2000/XP (also works on Windows Vista Home Premium. It may also work on other versions of Vista)
32MB RAM
2MB Graphics Card
CD-Rom Drive
Sound Blaster or other compatible sound card (as this is an old game, most sound cards should work with the game)
400MB Hard Disk Space
DirectX 7 (included on disk)
Other Platforms
Edit
It may work on high performance Windows 7 ans 10, although this needs checking.
Community content is available under
CC-BY-SA
unless otherwise noted.